I recently ran into an issue configuring a conference bridge for a client. What makes this particular problem worth sharing is that I found the documentation provided by Cisco on this issue to be a little confusing and a little unhelpful.
The initial document I used to try to configure this issue can be found here: http://www.cisco.com/en/US/docs/voice_ip_comm/cucme/admin/configuration/guide/cmeconf.html#wp1021179.
In particular what confused me were the differences in step 5 of "Configuring SCCP for Cisco Unified CME" and step 3 of "Associating Cisco Unified CME with a DSP Farm Profile."  I have included the full configuration example of both of these sections below.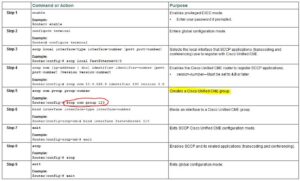 As you can see, if you follow the configuration examples in this document, you end up with two separate groups, one which contains the binding of an interface and another which associates your configured CME router and the DSP farm profile with a group.  The problem with this is that all of these commands should take place in  the same group.  There is also nothing in the "Purpose" section to indicate that these groups should in fact be one and the same.  Additionally, step 5 in "Configuring SCCP for Cisco Unified CME" turns out to not be needed at all but this is probably due to the document being outdated.
Additionally, most configuration documents I've read on Cisco's site include at least some troubleshooting information.  This document lists commands you can issue to see if things are working but leaves many out and doesn't include any advice on how to fix issues. Luckily, while researching this online in order to get the conference bridge working right I did find a much better document from Cisco shared on the site www.uc500.com in PDF form. (http://uc500.com/files/CME-4-1-HW-Conf-Tech-Tip.pdf)  This PDF not only has a correct, working example
of a conference bridge and more detailed troubleshooting steps (as well as  suggested fixes for common issues), it also includes related questions on the topic such as "How can a user initiate a meet-me conference." While that particular issue may seem like a no brainer, it's not immediately obvious if you've only ever worked with ad-hoc conferencing.